Wilson Property Services, Inc. is a privately owned real estate investment, development and full-service property management company headquartered in Scottsdale, Arizona. With over 30 years of property management experience in Arizona and Southern California, we are one of the largest privately-held fee management companies in the Phoenix area.
Our strength lies in our in-house expertise. With over 200 years of combined experience in commercial real estate acquisition, design and development, construction, marketing, and property management, our clients can count on our advice and management.
We are proud that many of our clients have used our services since our inception 30 years ago. Our clientele include small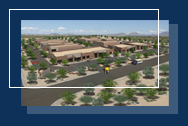 and large private real estate owners as well as institutional owners.
Our team of professionals manages a multi-market portfolio of office, retail, flex and industrial properties. Over the last 30 years, we have managed over 100 buildings and over 9 million square feet. With this portfolio of properties, we offer, in addition to full-service property management, strategic planning, leasing oversight, acquisition due diligence, budgeting and expense control, construction management, and accounting services.